Who are Parador Flooring?
Founded back in 1977, renowned German flooring experts Parador bring their expertise to the UK flooring market, redefining standards and expectations and changing perceptions about wood, laminate and vinyl floors. They design and produce beautiful engineered wood, laminate and vinyl flooring which can truly transform any home.
The advanced flooring technology used by Parador flooring has made them stand out from the bustling crowd; they offer intelligent click connections or high-quality adhesive systems to ensure long-term stability. They can provide the perfect solution for every flooring context, including for use in damp rooms and the integration of underfloor heating. Using sustainably sourced materials and manufactured with German precision, Parador flooring is a premium choice for any home.
The Benefits of a Parador Engineered Wood Floor
Parador have revolutionised the flooring industry with their impressive engineered wood collections.The combination of quality, durability and versatility means Parador engineered wood flooring will continue to bring elegance and natural beauty to your home for years to come. As a product, engineered wood flooring remains one of the most versatile flooring options, and will last for generations, making it excellent value for money.
Parador engineered wood has been a true game changer in the flooring industry, thanks to its ability to withstand rapid temperature changes (which makes it compatible with underfloor heating) and its intelligent locking system, that makes it quick and easy to install.
Parador's range of laminate flooring is equally impressive. With a patented click system for easy installation, edge impregnation to protect against moisture and a wear resistant top layer made from melamine, Parador laminate is extremely durable and hard-wearing.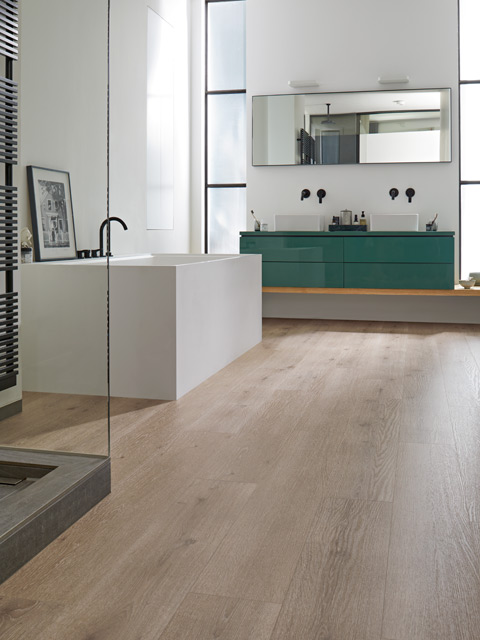 How sustainable is Parador engineered wood flooring?
Due to being consciously sourced, Parador engineered wood flooring is an environmentally friendly flooring option. Parador flooring has been FSC and PEFC certified. This means that every part and person who has helped create Parador's range of engineered wood is considered to be treating the environment responsibly. So you can rest assured that you are purchasing a truly eco-friendly floor.
Parador Flooring at Carpet and Flooring Online
Parador engineered wood and laminate flooring is a classic choice that brings elegance to any interior, both traditional and modern. Our Parador flooring collections come in a range of species, colours and styles, including herringbone, wide plank and extra-long plank formations. Whether you want to embrace dramatic darks, traditional rustics or contemporary blondes, there's sure to be something you'll fall in love with in Parador's universally loved collections.
Don't forget that you can also purchase the full range of accessories for Parador engineered wood flooring, including their range of Akustik Protect underlays and floor cleaner.
If you'd like to learn more about Parador or have any questions you need answering about engineered wood or laminate, then get in touch! A member of our friendly team can guide you through the research process and help you find the perfect floor for your home. Give us a call on 01905 954045.