The flooring in your home is a crucial aspect of its design and comfort. One of the most popular options for flooring is carpeting. The right carpet can add style, insulation, and texture to any room in your home. With so many options available, it can be overwhelming to choose the right carpet for your space. However, there are certain things you can consider when buying a carpet that will make the process easier and ensure you end up with a product that meets your needs. In this post, we'll go through eight crucial factors to consider when shopping for a carpet.
Fibers
The material the carpet is made of is an essential factor that will affect its durability, texture, and resistance to wear and tear. The most common types of fibers used in carpets are wool, nylon, polyester, and polypropylene. Wool is a high-quality and expensive material that is long-lasting and pleasant to the touch. Nylon is a synthetic fiber that is highly durable and easy to clean. Polyester is affordable and offers a wide range of colours and textures. Polypropylene is an inexpensive fiber that is water-resistant and bleach cleanable.
Natural fibres such as jute, sisal and seagrass are also increasingly popular carpet options and can add a modern, rustic appeal to a home. They are a stylish alternative to traditional carpets and are particularly durable.
When considering different fibres you will need to think about how long you will want the carpet to last and how much traffic the area will get. For instance, wool is worth the investment if you're looking for a highly durable carpet that will look as good as new in years to come. Polypropylene carpet is best avoided in high traffic areas since it is prone to flattening over time.
Style
The style of the carpet can significantly impact the overall aesthetic of the room. There are several styles to choose from, including cut pile (or twist), loop pile, and patterned. Cut pile is the most popular and features individual fibers that are cut at the top, resulting in a plush and soft texture. Loop pile features uncut fibers that create a uniform and durable looped surface. Patterned carpets feature a combination of cut and loop piles and are available in a range of designs. When selecting a carpet style it is best to opt for a design and colour that you are naturally drawn to, rather than following bold trends. You'll want your carpet to last at least 5 years, so make sure you love it.
Maintenance
The maintenance of the carpet is another critical factor to consider. Some carpets require more maintenance and care than others. For instance, wool carpets require regular vacuuming and it is best not to rub stains out of wool (although they are highly resistant to stains), while nylon carpets are easy to clean and most polypropylene carpets are actually bleach cleanable so ideal for homes with young children and pets.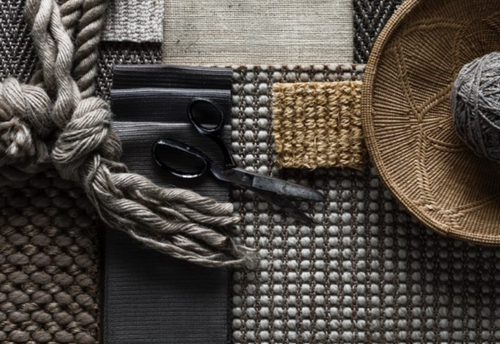 Durability
The longevity of the carpet is vital, especially for high-traffic areas. Some carpets are more durable than others, and it's essential to select one that can withstand the foot traffic and activity in the room. Nylon and wool carpets are some of the most durable options available.
Environmental Impact
The environmental impact of the carpet is also something you should consider. Some carpets are made from sustainable materials, such as wool or recycled nylon. Additionally, some carpets are treated with chemicals that can release volatile organic compounds (VOCs), which can affect the air quality of your home. Do your research on the manufacturer. If environmental credentials are a priority, it's a good idea to stick to natural materials - wool, sisal or jute carpets are naturally eco friendly.
Budget
Lastly, the cost of the carpet is a crucial factor to consider. Carpets come in various price ranges, from low-cost to high-end options. When selecting a carpet, it's essential to consider your overall budget for the purchase, installation, and maintenance of the carpet. But bare in mind that as with most things, short term savings do not necessarily mean you will save money in the long term. Budget carpets may seem appealing initially, but will not last half as long as a quality wool or 80/20 carpet.
Choosing the right carpet for your home doesn't have to be an overwhelming task. By considering these eight essential factors, you can guarantee that you end up with a carpet that meets your needs, preferences, and budget. Remember to take the time to research and compare various options before making a final decision. With the right carpet, your home will look and feel more comfortable, stylish, and welcoming.
If you would like to discuss our carpet brands with our experienced team, feel free to give us a call on 01905 954045 or drop us an email sales@carpetandflooringonline.com.