At Carpet & Flooring Online we stock a large range of our favourite engineered wood and laminate flooring products within our UK warehouse. Our stocked products are a great option if you're in a hurry for your new floor since they can be delivered UK-wide on a Next Day delivery service.
We stock a range of flooring products from German manufacturer, Parador Flooring. With a range of flooring styles including herringbone, wide plank and handcrafted textures, there's plenty of choice for you to choose from within our stocked product range. Parador uses responsibly sourced wood across their range and all of their product are engineered to exacting standards with a patented click-lock mechanism. This ensures hassle free fitting and long-lasting stability.
We also stock a select range of premium engineered wood floors from The Wood Flooring Co. With nordic tones and exquisite grains, this collection is distinguished by timeless character and sophisticated style. You can browse all of our in stock flooring options here.
Engineered Wood Flooring
Engineered wood floors are popular thanks to their lasting durability and classic aesthetic which makes them suitable for all interior styles and tastes. An engineered wood floor will never go out of fashion and when taken care of will last for generations, also making them great value for money.
We stock a range of classic engineered wood floors, all made from premium grade European Oak, with varying surface textures and finishes. For a classic rustic oak flooring which celebrates the character and grain of natural wood, check out Parador's Classic 3060 Oak Rustikal Matt Lacquer Engineered Wood Flooring. With a distinct grain and knotty appearance it oozes timeless charm and will compliment all interior styles.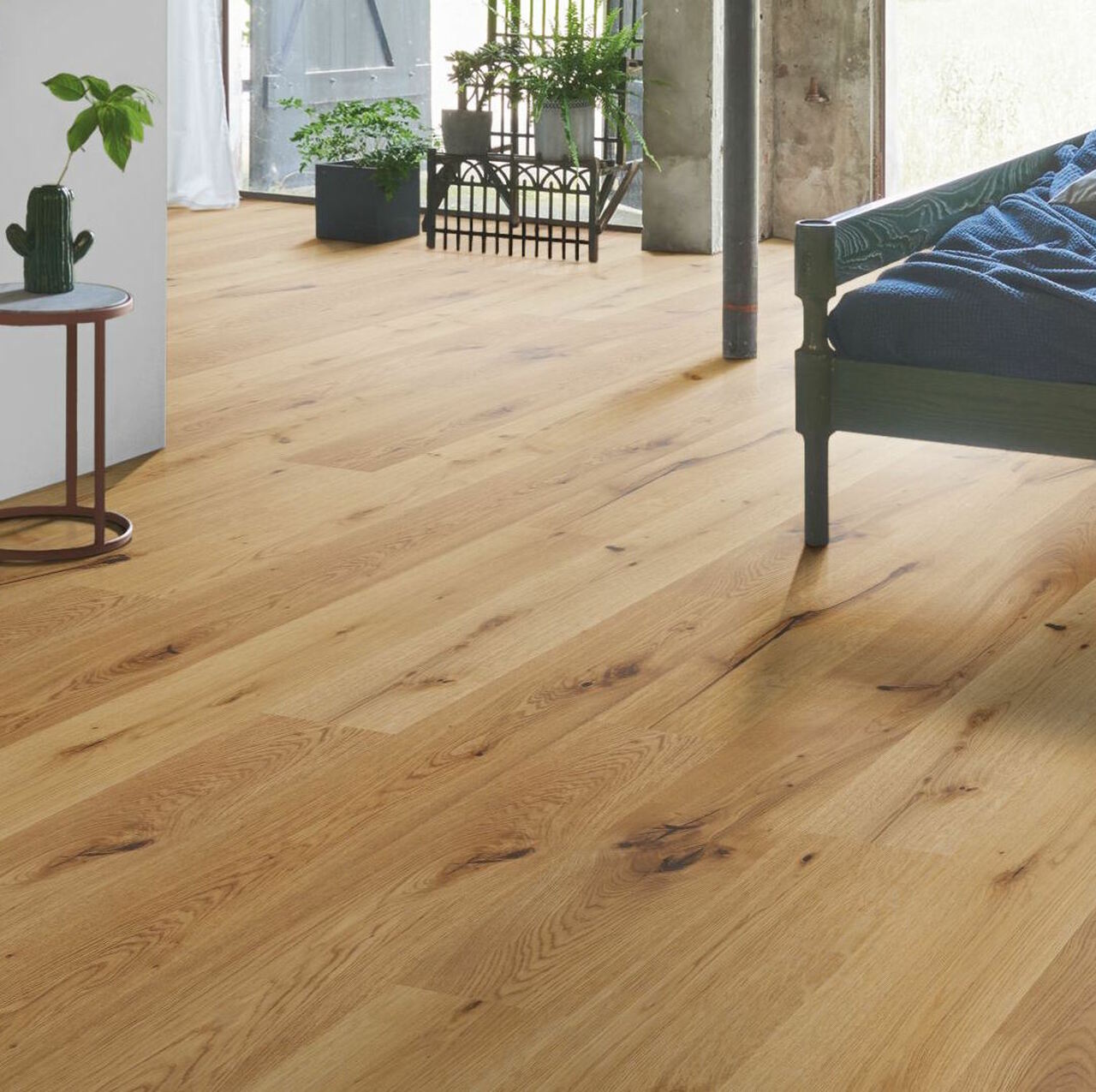 If you prefer a more contemporary plank, the Classic 3060 Oak Living White Matt lacquer is a beautifully elegant plank in a Living Grade with less knots for a more balanced overall effect.
We also stock a select range of premium herringbone engineered wood planks including Parador Trendtime 3 Oak Cream and Nougat for a stylish and timeless flooring option.
Laminate Flooring
We also stock a large range of laminate flooring at our Worcester based warehouse. We have a range of premium authentic laminate planks with tones ranging from natural oak to vintage white and soft grey. Our laminate flooring stock is also made by Parador flooring and imported from Germany, so you can be certain that you are buying a superior quality product.
Laminate flooring is a fantastic option for busy households thanks to its durable top layer which makes it highly practical and easy to care for. It is suitable for all areas of the home including kitchens and even bathrooms (with extra care) and is dirt and scratch resistant. It is also super easy to clean with simple vacuuming, sweeping and with a damp cloth, so it is also a really hygienic flooring option.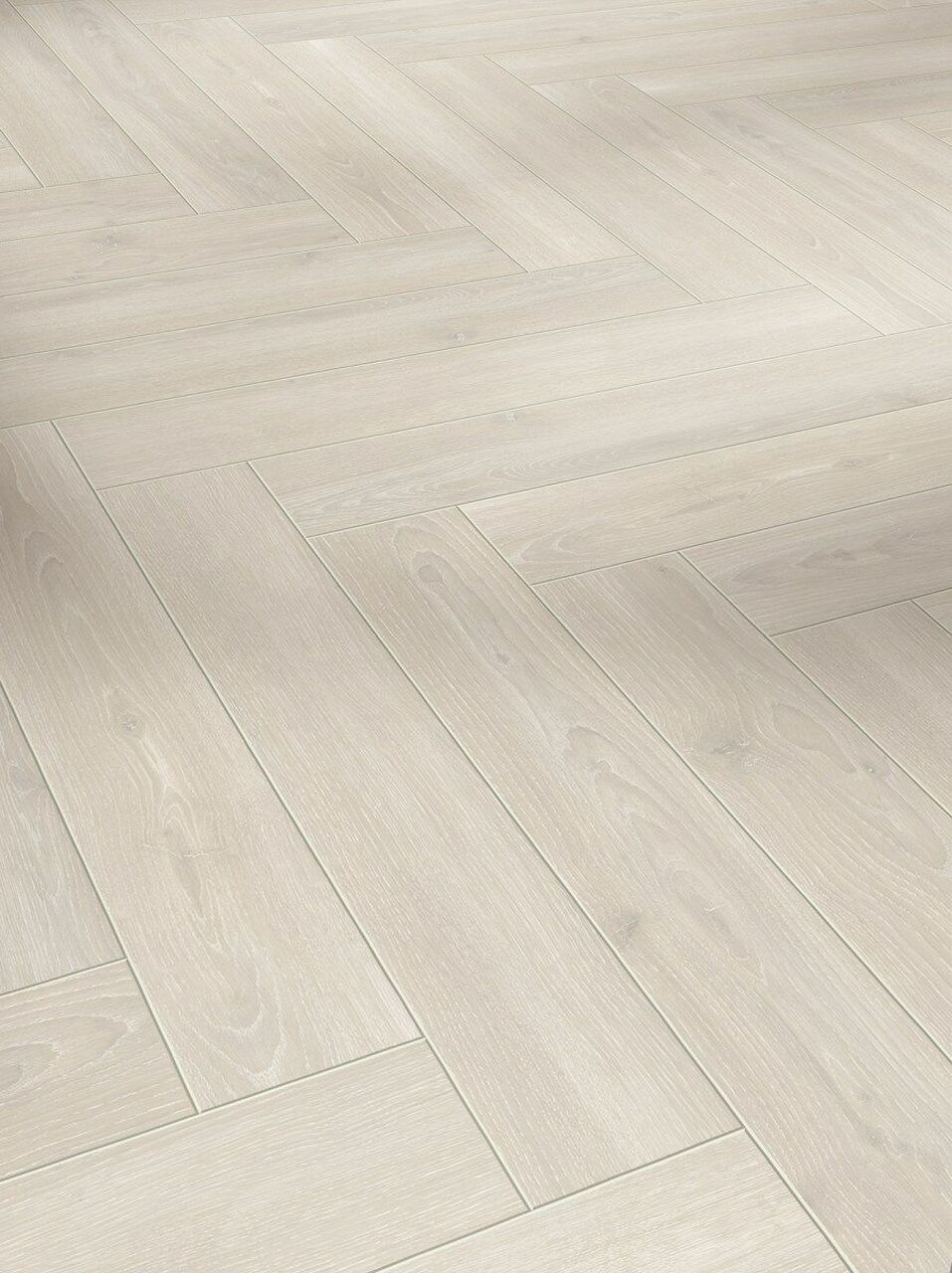 Parador Trendtime 3 Oak Skyline White Herringbone Laminate Flooring
Customer favourites include Parador Trendtime 6 Oak Askada White Limed, a soft light grey laminate plank in an extra large format which looks particularly stunning in open plan spaces. For a modern parquet plank, try Parador Trendtime 3 Oak Skyline White Herringbone, a beautiful subtle white guaranteed to elevate interior spaces both modern and traditional.
Remember you can call our team Monday-Friday from 9am-5pm to discuss any of our in stock products or to discuss lead times on any of our other product lines.