We are excited to announce that you can now purchase the entire range of Kahrs flooring from Carpet & Flooring Online.
As an authorised internet dealer Carpet & Flooring Online is one of the UK's primary stockists of Kahrs flooring with many of their vinyl and engineered wood flooring collections available for immediate dispatch across the UK.
Kahrs specialise in manufacturing beautiful wood and vinyl flooring and today is one of the oldest flooring companies in the world. Founded in 1857 in the deep forests of southern Sweden, Kahrs flooring have developed into a global market leader and now operate in 70 countries worldwide.
Continuing to lead the way in the advancement of engineering in hard flooring, Kahrs' success is born from a deep passion for creating beautiful floors in the most sustainable way possible. This is reflected in the high degree of craftsmanship, premium materials and a constant focus on quality.
Kahrs Engineered Wood Flooring
Kahrs engineered wood flooring has been manufactured for over 160 years and continues to be one of the most popular wood flooring choices in the UK and globally. Constructed using only the highest quality trees that grow just next to their production facility in Sweden, Kahrs engineered wood flooring will stand the test of time and is also an environmentally conscious flooring choice.
Available in a huge variety of different tones and styles that give warmth to the most minimalist of interiors, or enhance the character in a more traditional home, Kahrs engineered wood floors offer endless design opportunities. Kahrs engineered wood flooring will enhance the floorspace of any interior style, with the choice of a natural oil or lacquered finish to fine tune to your specific lifestyle requirements.
Kahrs are masters of their craft, with the heritage to support it, thus their high performance surface finish and patented Woodloc® click joint system are built to last and withstand the wears and tears of everyday life. The click lock mechanism also ensures hassle-free fitting for quick installation.
Each Kahrs engineered wood floor plank is unique and individually treated according to its unique composition of knots and graining, with differing techniques such as hand scraping, brushing or smoking for a beautifully unique finish.
We also stock a range of preparation and maintenance products for Kahrs engineered wood flooring, which you can add to your basket within each product page.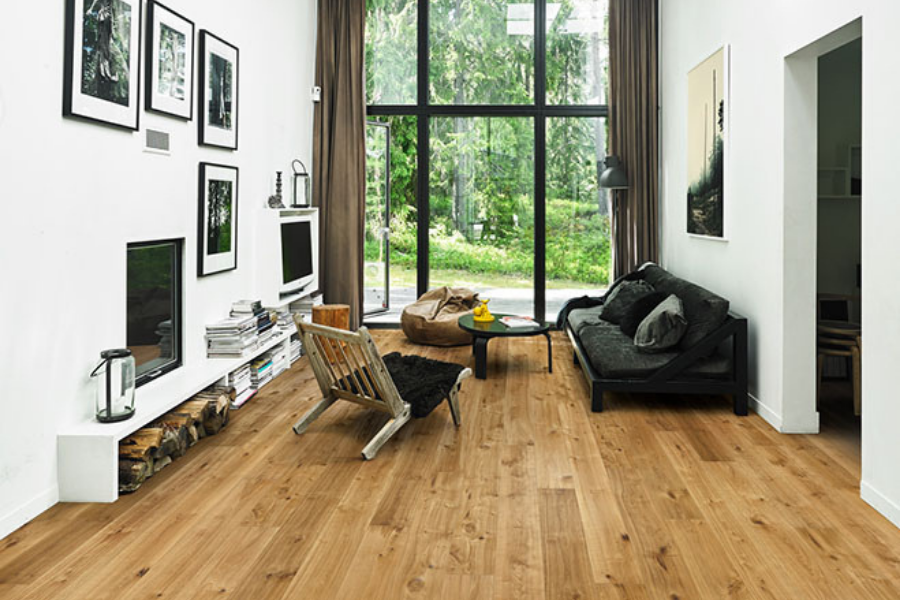 Kahrs Vinyl Tile Flooring
Kährs Luxury Tiles is a range of luxury vinyl floors designed for everyday life. Being scratch resistant and water resistant, Kahrs Luxury Tiles are perfect for all areas of the home and are extremely popular for kitchens and bathrooms. They are also super easy to maintain, making them the ideal flooring choice for busy households. If you want a floor that will work hard for you, vinyl tiles certainly won't disappoint!
The wide range of different designs and colours makes it easy to find a floor that will match your individual interior style. From wood to stone effects, Kahrs Luxury Tile vinyl flooring offers true authenticity replicating the appearance and texture of real materials, all with the added practicality of a vinyl floor.
Fast UK-Wide Delivery
As an authorised internet dealer and a UK stockist, you can rely on Carpet & Flooring Online to deliver. We stock a large range of Kahrs floors which we are able to deliver to you within 2-3 working days (standard delivery), or we can also dispatch to you the very next day at a small additional charge.
For the Kahrs products we don't hold in stock we are still able to get these to you fairly speedily. Once you place your Kahrs flooring order a member of our team will always be in touch with you to discuss delivery options and to get your new flooring to you as soon as possible.
Remember, we are a Kahrs Authorised Internet Dealer and will match any other 'like for like' quote on Kahrs flooring!
Call us today on 01905 954045 to discuss your Kahrs flooring project, or checkout online.