Over the past year we've spent more time in our homes than ever before, at times only being permitted to leave the house for necessary travel or one form of outdoor exercise a day. We all know how important spending time in nature is for our wellbeing, and we all know how much we have come to appreciate it!
Interior design trends are embracing our appreciation for the natural world by incorporating elements of the outdoors in their chosen themes of rich earthy tones and textured elements – think rustic wood floors, artisan ceramics and natural soft furnishings. We've predicted the most popular flooring trends for 2021 to complement this nod to the great outdoors.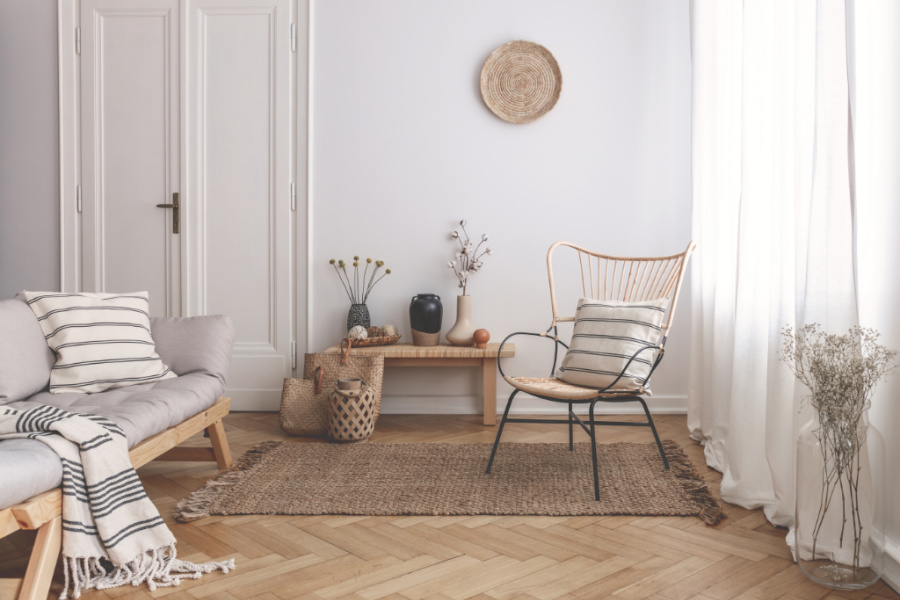 Textured finishes and rustic grains
In tune with bringing nature into the home, this year seems to be all about texture, natural imperfections and abstract characteristics. One of the trends that is coming to the forefront of the interior designer's toolbox is the rustic look. Woods with prominent knots, grains and slight imperfections are predicted to be very popular this year with emphasis placed on highlighting natural features within the home.
Laminate and Vinyl flooring options are also growing in popularity, providing a more practical alternative that can accurately mimic the texture and finish that is so desired. Distressed, reclaimed, wire-brushed and hand-scraped effects will be popular to emulate natural imperfections that occur in real wood. Our Amtico ranges incorporate a huge collection of textured luxury vinyl tiles, ideal for busy households.
Warm, neutral tones
Busy daily routines and long working hours can take its toll on our health, probably why more of us are investing money into making our homes our sanctuary to escape from the stresses of modern-day life. This year will see a shift toward warmer shades and natural tones with the primary colour choice for hardwood flooring being light browns and warm oaks, with the pared-back Scandinavian look remaining popular.
We will see neutral colour themes throughout the home, creating space and atmosphere that allows you to relax and unwind, following the rules of Hygge – a cozy and comfortable Danish design theme.
Classic layouts with a contemporary edge
As we move further into the new decade, parquet flooring installed in herringbone, chevron or basket weave pattern continues to grow in popularity providing endless opportunities to create intricate geometric designs. Large pattern flooring can produce a beautiful effect with a huge range of options to choose from and pairs perfectly with minimalist and industrial décor themes.
Wide plank still continues to be a popular choice for homeowners with a move towards larger and wider format planks, creating an overall spacious effect to make the room look larger. A widely accommodating trend that is suitable for everyone, no matter the design sensibility. This style of flooring is quite historical in nature, where it can complement a rustic authentic look in an older home, but also lend a contemporary feel in a modern home.
There are many options to choose from, but personally we're big fans of Parador's Trendtime 6 laminate flooring range. Great for meeting the demands of modern living due to its great durability, extremely hardwearing scratch and water-resistant surface; it is an ideal choice to create a relaxing and cozy space to enjoy for many years to come.